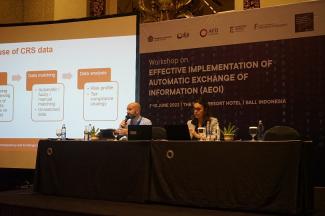 Expertise France–part of Agence Française de Développement (AFD) Group, in partnership with Directorate General of Taxes (DGT) held a workshop on Effective Implementation of Automatic Exchange of Information/AEOI (Wednesday, 7/6).
The workshop which is part of AFD's technical assistance in taxation was held in Bali from 7 to 10 June. Sanityas Jukti Prawatyani, Deputy Director for Exchange of Information, in her opening remarks representing DGT, stated that this event showed the commitment of Indonesia in promoting tax transparency. Indonesia also welcomed AFD's support in providing experts and financial assistance needed for the workshop to be conducted successfully.
In line with Indonesia's commitment, Shopie Chappellet, AFD Deputy Director for Indonesia mentioned in her speech, "this workshop is part of the fiscal reform support program to mobilize domestic revenue through the optimization of taxation business program."
As we know, the objective of AEOI is to detect and deter tax avoidance by the taxpayers through the placement of financial assets offshore. Since 2018, Indonesia has exchanged financial information with AEOI partner jurisdictions annually. This year, Indonesia will exchange AEOI data for the fifth time.
The number of countries and jurisdictions participating in AEOI is growing each year globally. This year, 108 jurisdictions will exchange financial information automatically with Indonesia. "But more importantly, AEOI is not just about obtaining data and putting it in the shelf, it is about being able to use the data to tackle tax avoidance," expressed Raynald Vial, Tax Policy Advisor of the Global Forum on Transparency and Exchange of Information for Tax Purposes (Global Forum).
Along with Raynald, Colin Yan from Global Forum was also invited to be the speaker of the workshop. In addition, Anna Olias and Margaux Amiel from Direction Générale des Finances Publiques (DGFiP) of the French Ministry of Economy and Public Finances also shared the best practice of AEOI implementation in France.
For four days, the participants gained some new insights in processing AEOI data to improve taxpayers compliance and the strategy to monitor the compliance of the reporting financial institutions. The participants from different units of DGT engaged in a lively discussion and shared their ideas and experience with the experts.
"DGT is currently developing a core tax administration system called Sistem Inti Administrasi Perpajakan (SIAP). This new system will redesign the tax business process to an integrated view. AEOI is one of the business processes which will be integrated into the new system," said Mekar Satria Utama, Director of International Taxation, in his closing remarks.
After the launch of SIAP in 2023, the process of receiving and sending AEOI data will be done automatically with less human intervention. This automation is expected to improve the data exchange process significantly.
Mekar believed that this workshop had provided new insights to the participants to implement AEOI effectively, not only on the legal framework, but also on the technical aspects. "This event is a great opportunity for us to learn directly from experts and to share ideas that can strengthen our administrative capacity," he added.